Cheoy Lee Shipyards' Commercial Boat-Building Experience and Efficiency Ensures the Yacht's Long-Range Dependability. 
At Cheoy Lee Shipyards, Hull #1 of the Explorer Series has hit a major milestone in its construction process. Its oceangoing steel hull is now complete and has been turned upright. Thanks to its efficiency in steel construction, the shipyard went from cutting steel to turning the hull in just over three months. The yacht's superstructure, which is being fabricated from aluminum, is nearly finished and will soon be mounted atop the hull.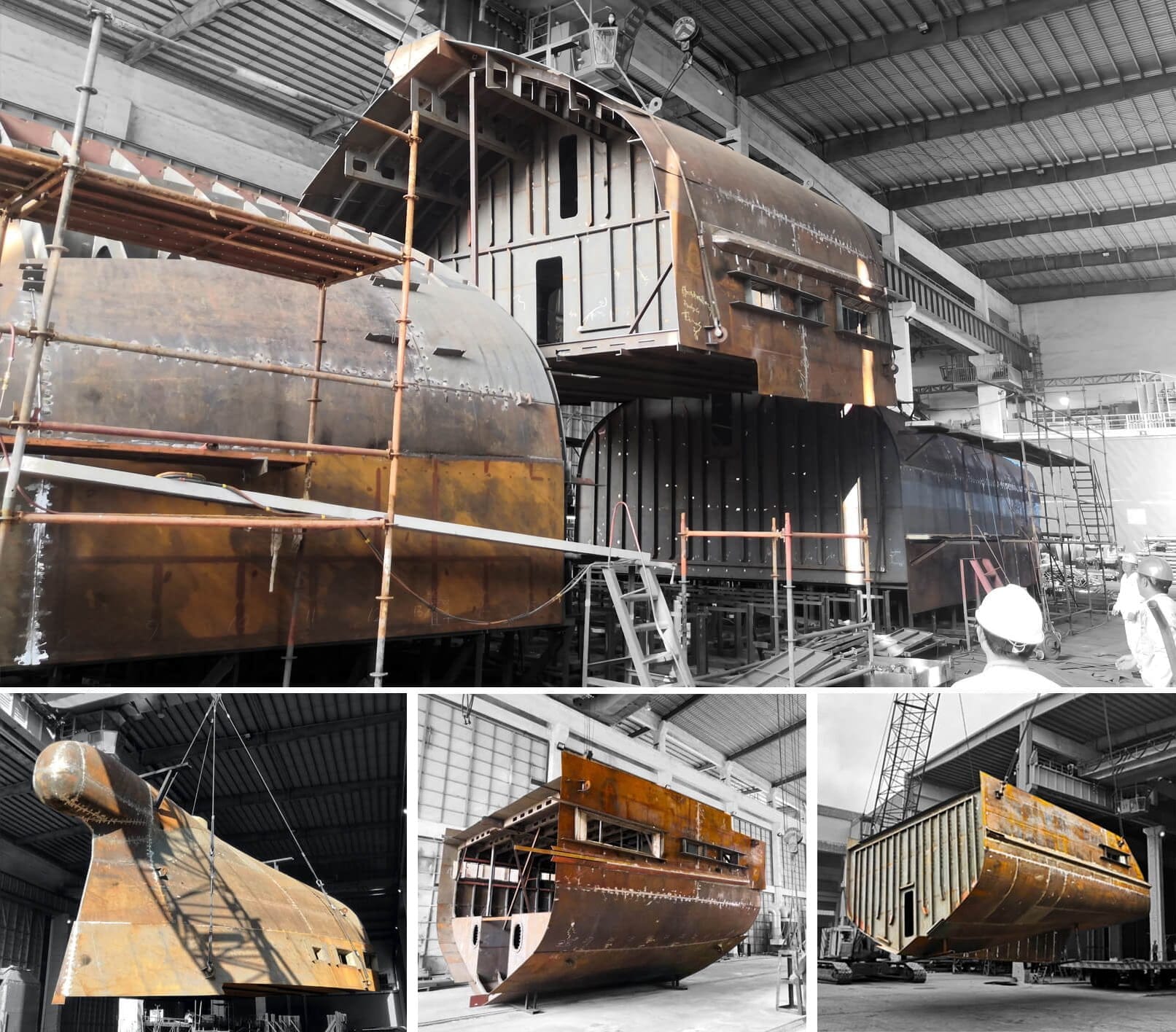 Designed in collaboration with naval architect Jon Overing, the expedition yacht has a fast-displacement hullform with a rounded bilge and bulbous bow for increased efficiency through the water. Overing and Cheoy Lee Yachts selected steel as the hull construction material for the new Explorer Series due to the metal's toughness, durability, and ease of maintenance when an owner is voyaging to off-the-beaten path destinations around the globe.
The family-owned and -operated shipyard drew on its 150 years' worth of shipbuilding experience, along with the very latest technology in automation, 3D modeling and computer-aided engineering, to construct the new Explorer's hull. 
"You can pull any information you want from a 3D model because it is so accurate," said Cheoy Lee Shipyards Director B.Y. Lo. He continued, "From the 3D models, you can do 'nesting', which means you have a steel plate that measures 6' x 30' and then you nest the individual pieces like brackets, tank tops, and frames onto in that steel plate. If your engineer is good, he can use up to 95 percent of the plate and only waste about 5 percent."
In the past, before 3D modeling, he explained, builders might wind up wasting as much as 40 or 50 percent of their steel plate. Cheoy Lee Shipyards gains further efficiencies in its steel hull construction because of its full commercial vessel order book, which currently includes over 40 vessels – most of which are being built for repeat customers.
"We cut a lot of steel each year. 'Practice makes perfect' is a Chinese idiom. That is, skill comes from practice, by experience, by exercise. Good planning, knowledge and skill create efficiency. Efficiency is where we excel," Lo said.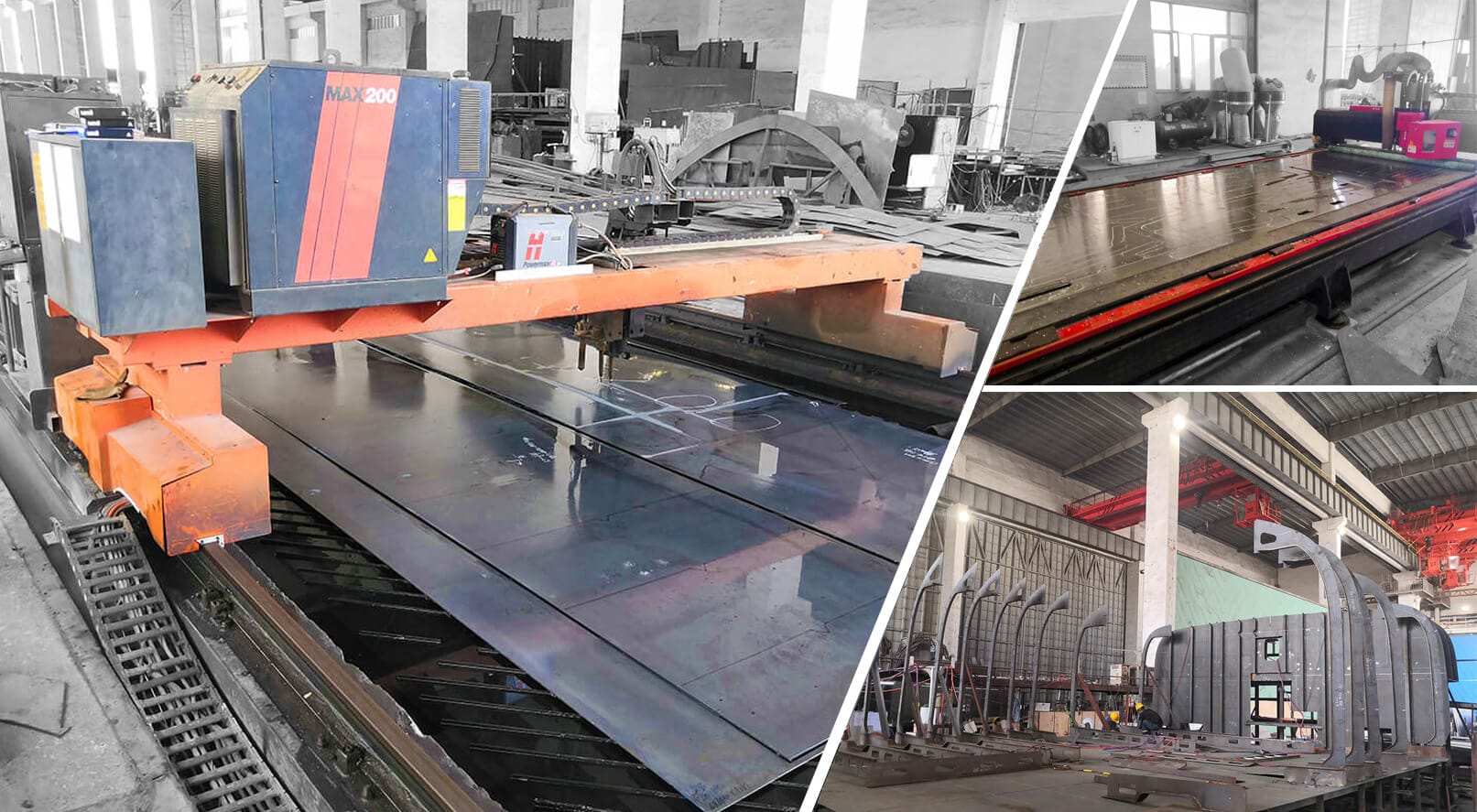 The shipyard uses many of the same highly skilled workers to build its luxury explorer yachts as it does its commercial ships and tugboats. This provides benefits to both types of vessel. The pilothouses of Cheoy Lee's commercial tugboats are known for their yacht-quality finish, for example. And Cheoy Lee expedition yachts are built with the same goal of providing long-range durability and reliability.
"A commercial boat makes a living for its owners by working. If something is not working, it causes downtime," Lo said. "Dependability is number one, and the ability to fix the vessel quickly is very important. At Cheoy Lee, that commercial practicality is carried through to the recreational yacht side."
Cheoy Lee's commercial shipbuilding experience ensures that the crew of its Explorer Series yachts will be able to maintain and service all the equipment on board when necessary. In addition to utilizing 3D modeling to design the complex layout of the engine room, the shipyard will create a full-scale mockup out of plywood to make sure the crew has easy access to everything.
"When we install equipment, we have to think how it can be replaced or repaired, and how to do it efficiently. That's where the commercial side comes in," Lo said. "For example, if there is a bank of air chillers in the engine room and you lose one chiller, our system design will allow it to be isolated."
Lo concluded,
"If I were to tell you I build a perfect boat, I would be lying to you. It's the effort you put in it; it's how you make servicing easier and more efficient for the owner. That's what makes Cheoy Lee Yachts stand out."
Stay tuned to this blog for more updates on the progress of construction on the first hull of the Cheoy Lee Explorer Series.