Range
4,500
nautical miles
The 107 Explorer's fast-displacement hull, designed in collaboration with American naval architect Jon Overing of Overing Yacht Designs, features a rounded bilge and bulbous bow for optimal fuel efficiency.
Powered by twin 750-bhp Cummins workhorse diesels, this bluewater explorer yacht offers a range of 4,500 nautical miles at 10 knots. When time is of the essence, however, she delivers a fast cruise speed of up to 13 knots. Her 8'6" draft ensures accurate tracking and maneuverability while allowing access to most bodies of water.
Self-sufficiency while voyaging to the farthest corners of the globe is assured by leading expedition yacht builder Cheoy Lee's 150-year shipbuilding tradition, combined with the family-run company's continuous adoption of the latest industry-leading technology.
The 107 Explorer is equipped with commercial-level systems and machinery designed for reliability, ease of maintenance and service. Stowage space also is maximized throughout this well-laid-out explorer yacht, including huge freezers, dry provisions and frozen waste storage compartments on the lower level.
When you are venturing beyond the borders of civilization, it is essential to take what you will need along with you. On the Cheoy Lee 107 Explorer, everything has its place.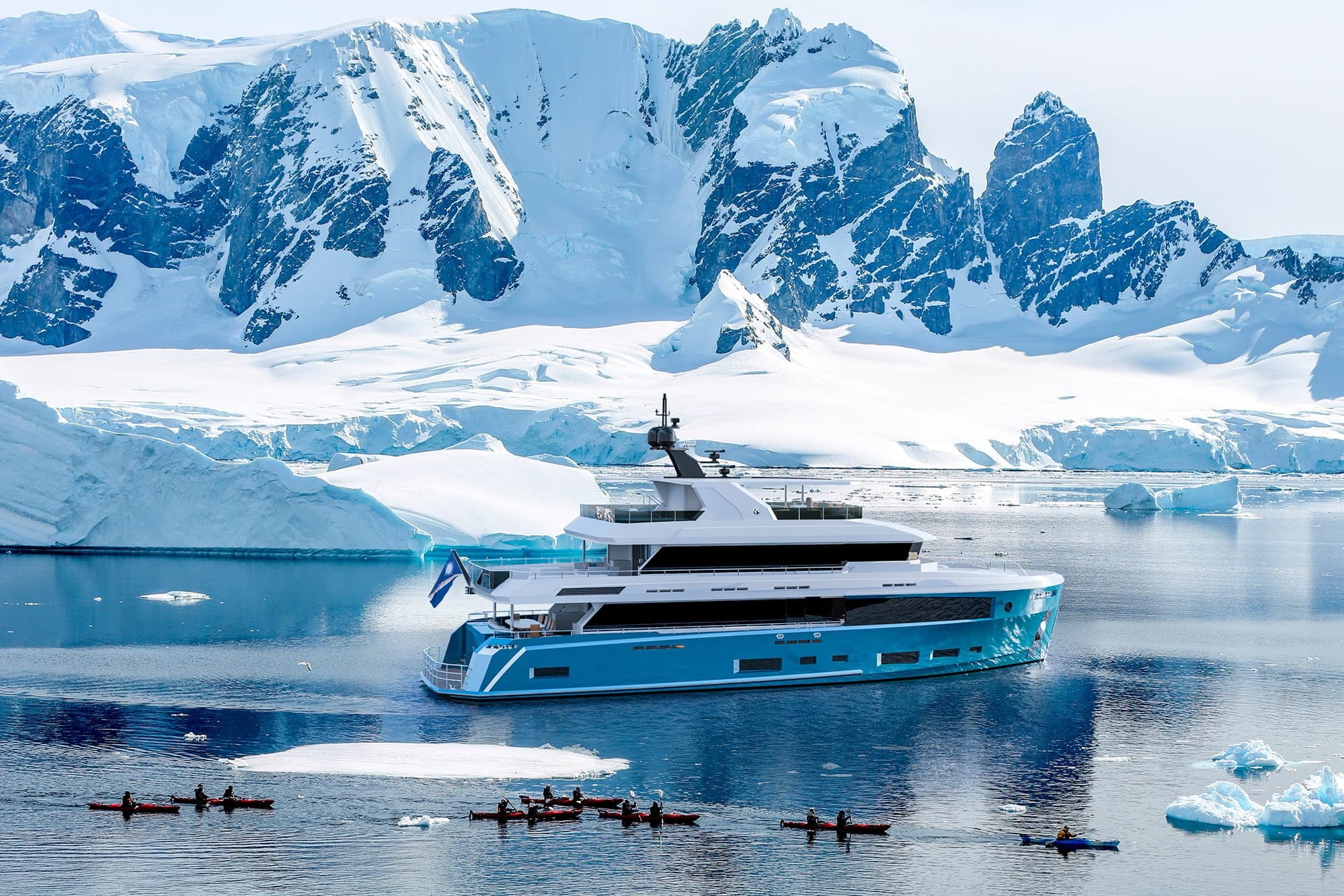 Impassioned by the journeys of those who enjoy our yachts, we blend unparalleled engineering excellence, purity in design and exceptional craftsmanship into performance that can be felt.
At Cheoy Lee Yachts, we build for the love of the voyage.
Naval Architecture:
Overing Yacht Designs
Design:
Overing Yacht Designs
Interior Design:
Sylvia Bolton Designs
Construction:
Steel Hull/Aluminum Superstructure
Classifications:
Lloyds ✠ 100A1 SSC Yacht Mono G6 + LMC, UMS
Safety Certificate:
Republic of Marshall Islands
Registry for Private Yachts
Guests 10










Crew 6-8








Unlike most expedition yachts in this size range, the 107 Explorer offers four full decks, each designed to facilitate efficient, self-sustaining voyages. 
Soaring above the water's surface, the large flybridge encompasses the upper helm along with a full bar, al fresco dining area, Jacuzzi and day head. The bridge deck features a spacious pilothouse with access to the deck on either side. Its custom helm has space for the owner's choice of electronics, and a commercial monitoring system is standard. The owner's suite commands the aft portion of the deck, offering a private sanctuary with 180 degrees' worth of views.
The main deck's best-in-class arrangement incorporates a VIP guest suite and captain's cabin forward, both premium-level accommodations for a compact explorer yacht. The main salon, formal dining salon, galley and huge aft-deck dining area will convince guests they are on board a much larger yacht. Below deck, there are two king-berth guest suites plus a twin suite. The variety of accommodations ensures the 107 Explorer can meet the needs of every guest, as well as serve as a luxury charter yacht. 
Thanks to the generous crew quarters, which include an engineer's cabin and separate laundry, the crew will be rested and fit to provide the very highest level of service throughout every voyage.

Contact Us
For more information on how Cheoy Lee can deliver your dream, drop us your comments and we will respond shortly.
Contact Us
For more information on how Cheoy Lee can deliver your dream, send us your comments and we will respond shortly.