Winner of Boat International's 2020 Voyager's Award, the 146'7" Cheoy Lee Explorer Yacht Dorothea III is far from being a "typical" superyacht. Since her owners, Steven Green, former U.S. Ambassador to Singapore, and his wife, Dorothea Green, purchased her in 2011, she has put 200,000 nautical miles under her keel, visiting 70 countries, crossing the Atlantic Ocean four times and the South Pacific five times, and voyaging as far east as the Mekong Delta, as far south as Patagonia, and as far north as Alaska's Aleutian Islands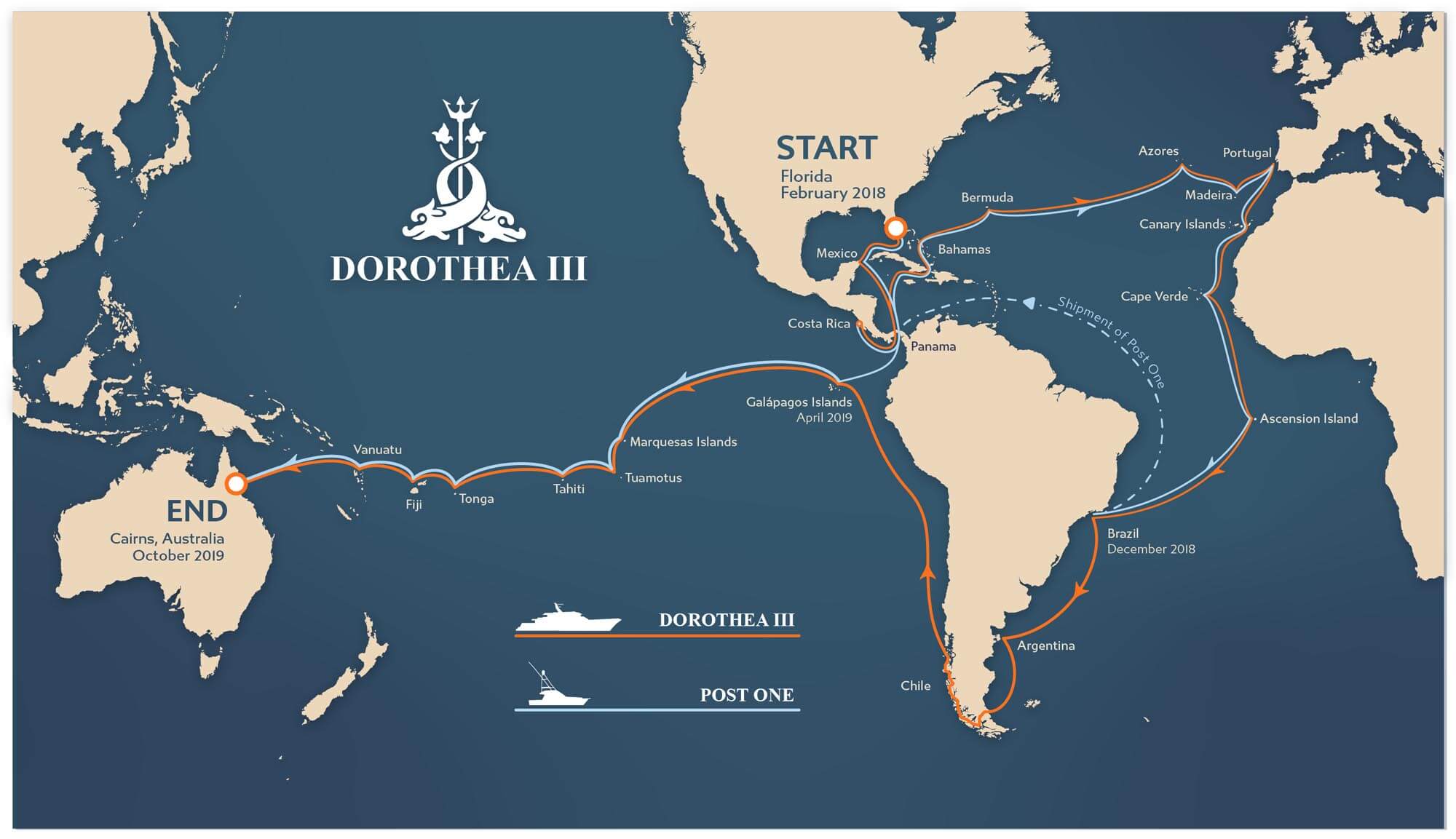 Along the way, Dorothea III's owners and crew have enjoyed angling in some of the world's most spectacular fishing hotspots. They also have raised funds for charity and distributed humanitarian aid en route, ranging from providing lunches and laptops to schools in impoverished areas to water and supplies for hurricane-devastated islands.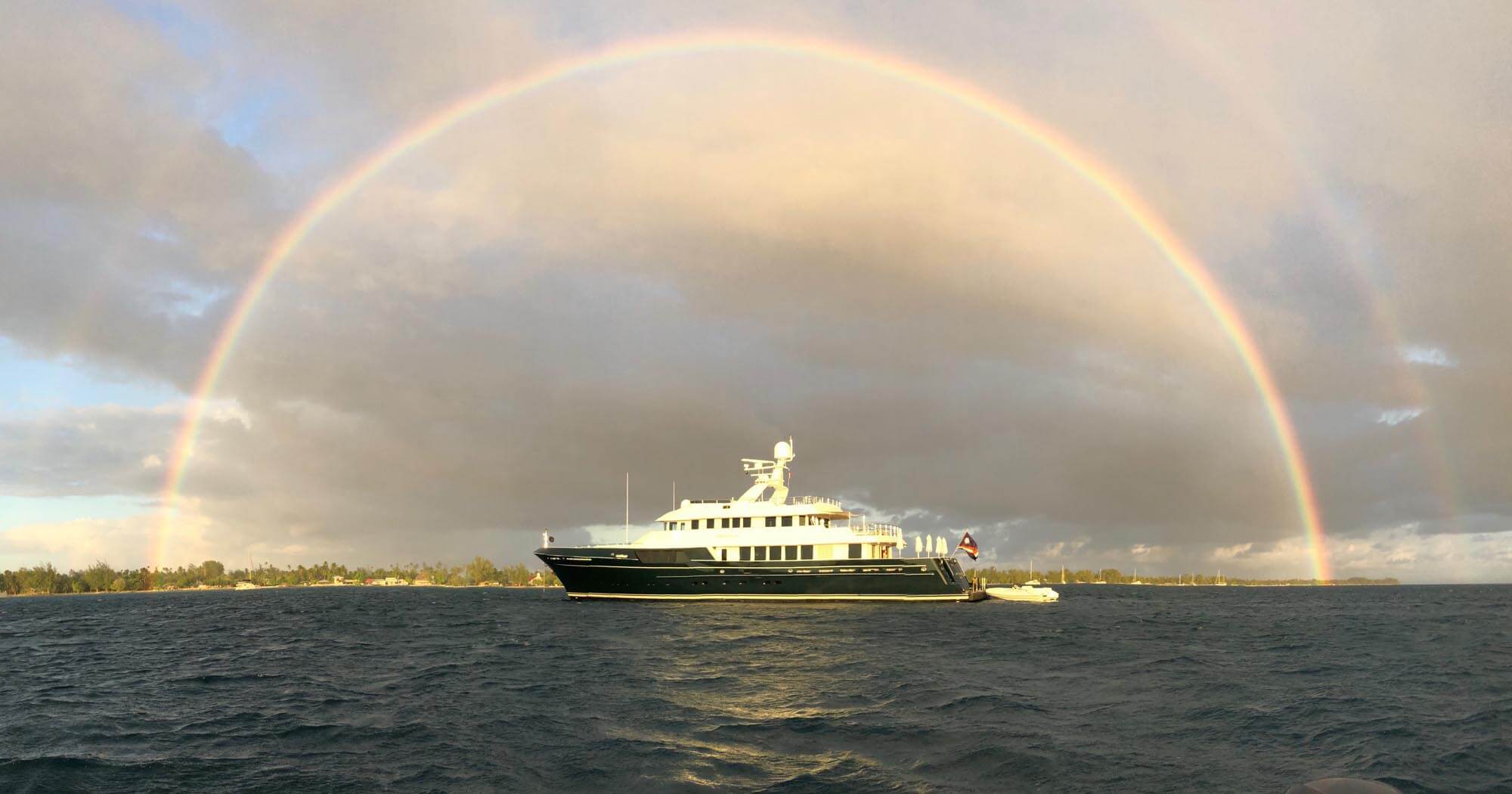 "She has been the ultimate explorer yacht in every facet of the term," said Captain John Crupi, Dorothea III's master for the past decade.
Designed for world exploration
Dorothea III has a sterling pedigree. This well-thought-out explorer yacht design was created by noted naval architect Ron Holland of Vancouver, Canada, and built by Cheoy Lee Shipyards, builder of some of the world's best explorer yachts, drawing on our unique combination of cutting-edge technology and over 150 years' worth of maritime artisanship. The yacht launched in 2007 as Marco Polo, a name she lived up to even on her maiden voyage when she cruised from Hong Kong to the Mediterranean on her own bottom.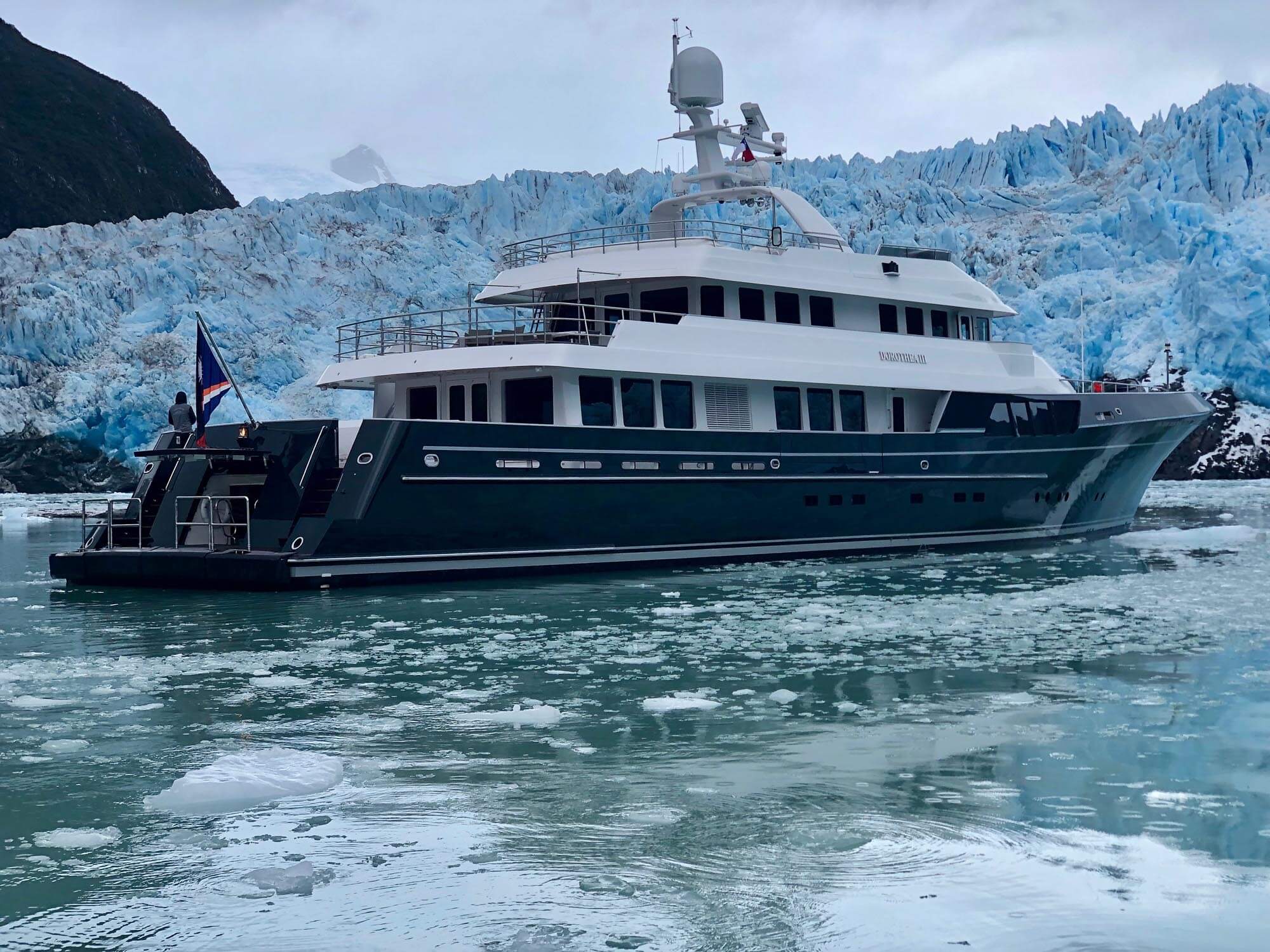 Ron Holland's design brief was to draw an expedition yacht capable of modern, efficient, green cruising. He gave her a seaworthy, full displacement hull with a bulbous bow, which Cheoy Lee fabricated from steel. Her topsides were constructed of fiberglass to save weight while at the same time enabling the designer to give her an attractive profile in keeping with a luxury superyacht.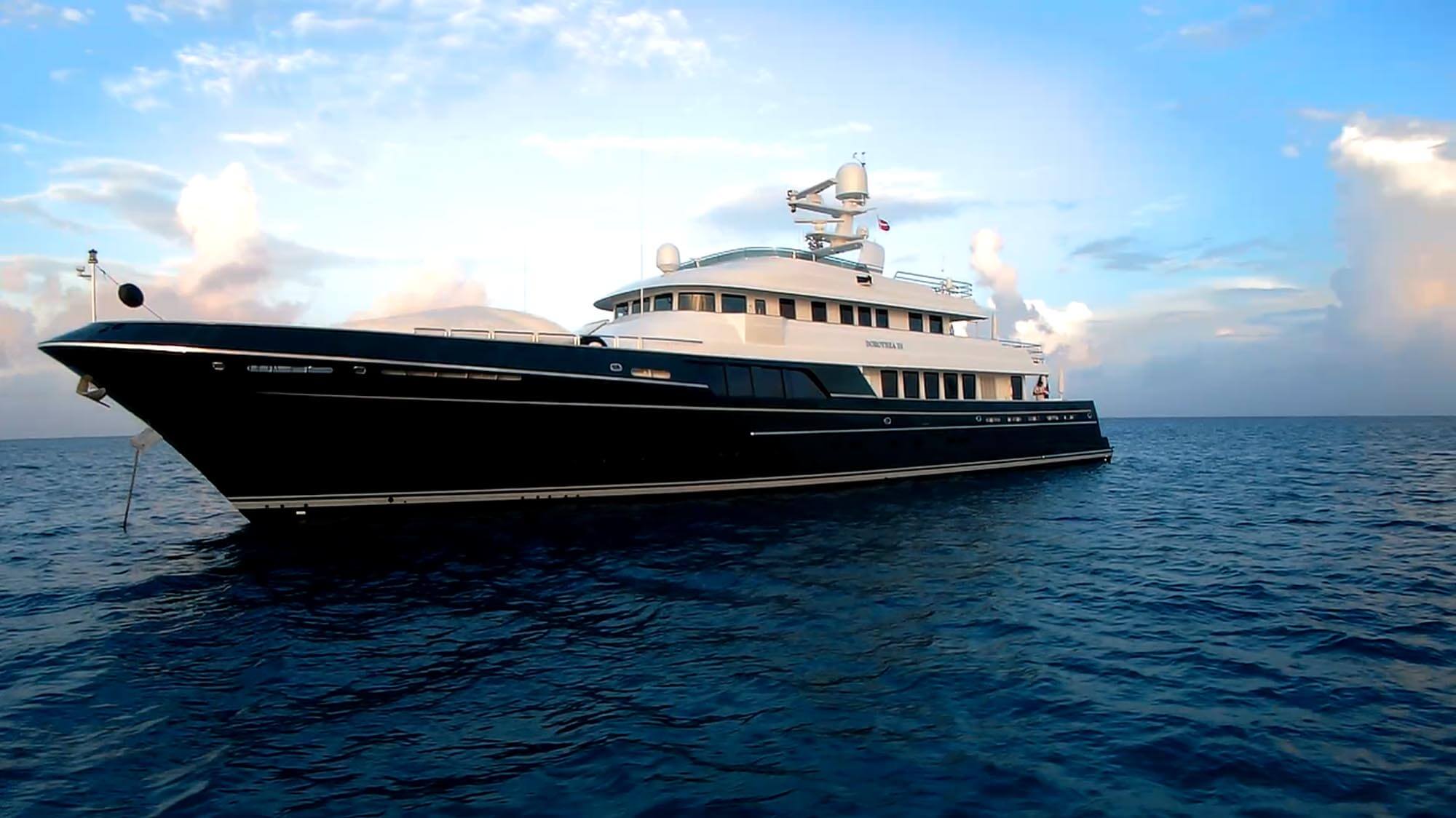 Completely unique among superyachts, however, the new Cheoy Lee explorer yacht was equipped with an innovative propulsion system engineered to enhance her fuel efficiency. She has a single 1,911hp Caterpillar 3512B main engine connected to a Schottle controllable pitch propeller system with a range from 0 to 90 degrees. In addition, she is equipped with a Schottle pump jet powered by a Caterpillar C7 auxiliary engine forward in order to facilitate docking and slow-speed maneuvers. 
"When Marco Polo launched, it was revolutionary because the propulsion was so different," Capt. Crupi said. The fuel savings provided by this single-engine system are enormous; he estimates that if she were equipped with twin engines, the yacht would consume about 50 percent more fuel.
Commercial heritage
The Greens' previous yacht, the original Dorothea, was a 1967 Bill Garden design with a wooden hull that was lost in a fire in 2007. After mourning that loss, the family began searching for an expedition yacht.
"The idea behind their next purchase was to go far," Capt. Crupi said.
 It narrows the field of candidate boats considerably, however, when you have to take into consideration,
"How do you get from Point A to Point B when A is Miami and B is Australia – which we've now done five times," he said.
The Greens and Capt. Crupi did their first sea trial in Marco Polo in 2009 and liked what they saw. She combined luxury yacht accommodations, including an owner's suite on the bridge deck and four guest suites below, with highly functional commercial-level systems and equipment.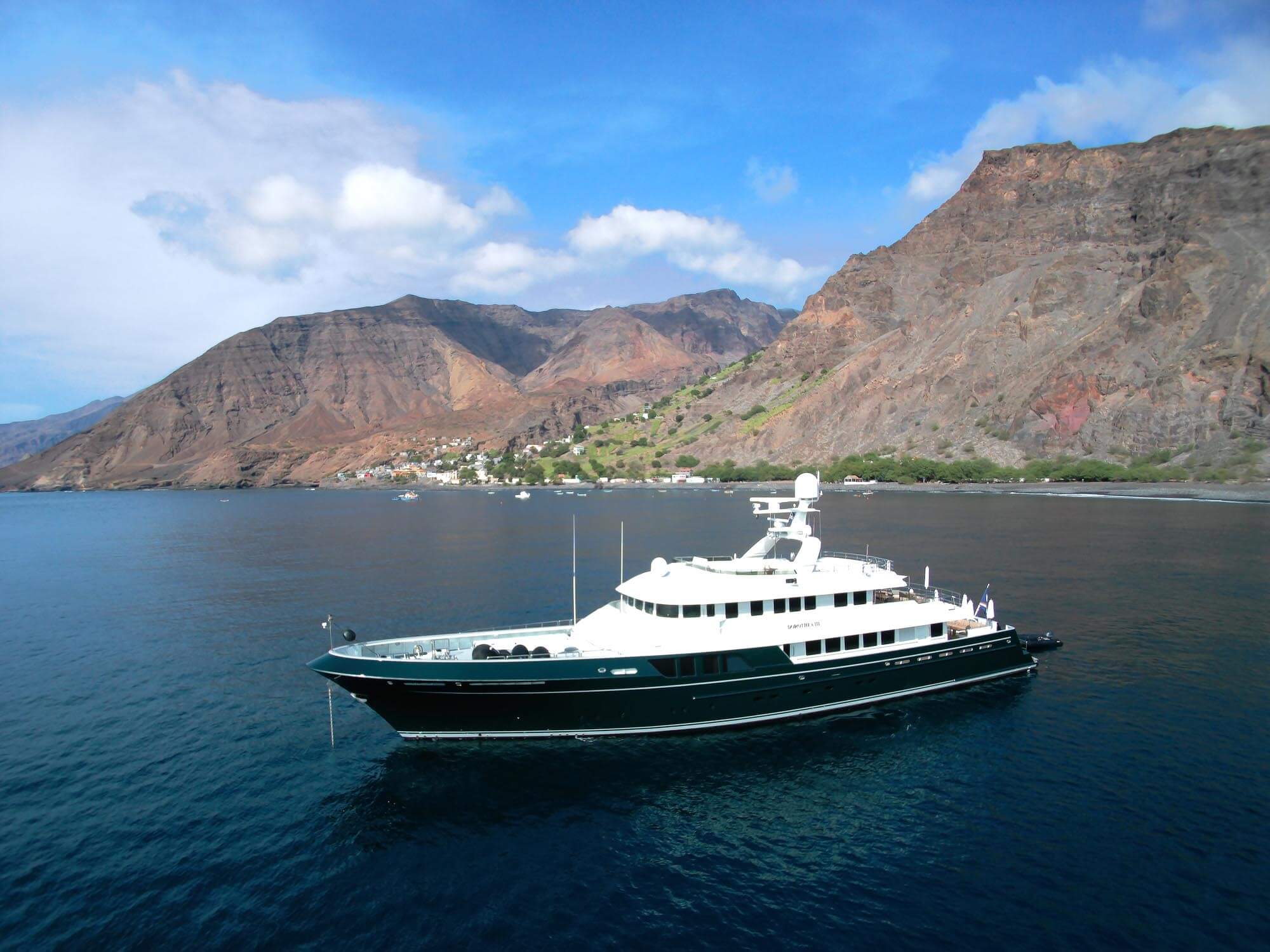 "We knew that Cheoy Lee builds a good commercial product. The thing that makes it great is that the engineering that went into it is based on commercial wants and needs. Many yachts may look like an explorer but don't have the machinery to back it up," Capt. Crupi said.
Another selling point was that the Caterpillar main engine is rated B Class. "It is designed to run at 80 percent load for 100 percent of its life, or 100 percent for 80 percent," Capt. Crupi said. "Most yachts have E Class engines, designed to run at 80 percent of load for 40 percent of their life." 
Along with a maximum speed of 14.5 knots and a fast cruising speed of 13 knots, the Cheoy Lee luxury superyacht offered a transoceanic range of 6,000 nautical miles at 10.5 knots.
When Marco Polo launched, she was ready for world exploration, but due to the 2008 global financial crisis, she sat idle for a couple years, her potential unfulfilled. When the Greens ultimately purchased her in 2011, renaming her Dorothea III, Capt. Crupi said, "It was a boat that was relatively new and it didn't need any mechanical updates. It was ready to do what we wanted it to do." 
After the Greens took ownership of Dorothea III in Fort Lauderdale, Florida, they took her for a short shakedown cruise to The Bahamas, and then she went in for a refit to customizer her interior to suit her new owners' personal tastes. After that, there was no holding back. 
"[The yacht] never suggests it wants to do anything but go," Capt. Crupi said.
Self-sufficient luxury
There are no superyacht marinas in Vanuatu or the many other "off the beaten path" destinations that Dorothea III visited in over 200,000 nautical miles of ocean exploration over the past decade. She spent the vast majority of the time at anchor. Marine parts and other supplies also were scarce or nonexistent, which put a huge emphasis on self-sufficiency for the Cheoy Lee explorer yacht and her crew.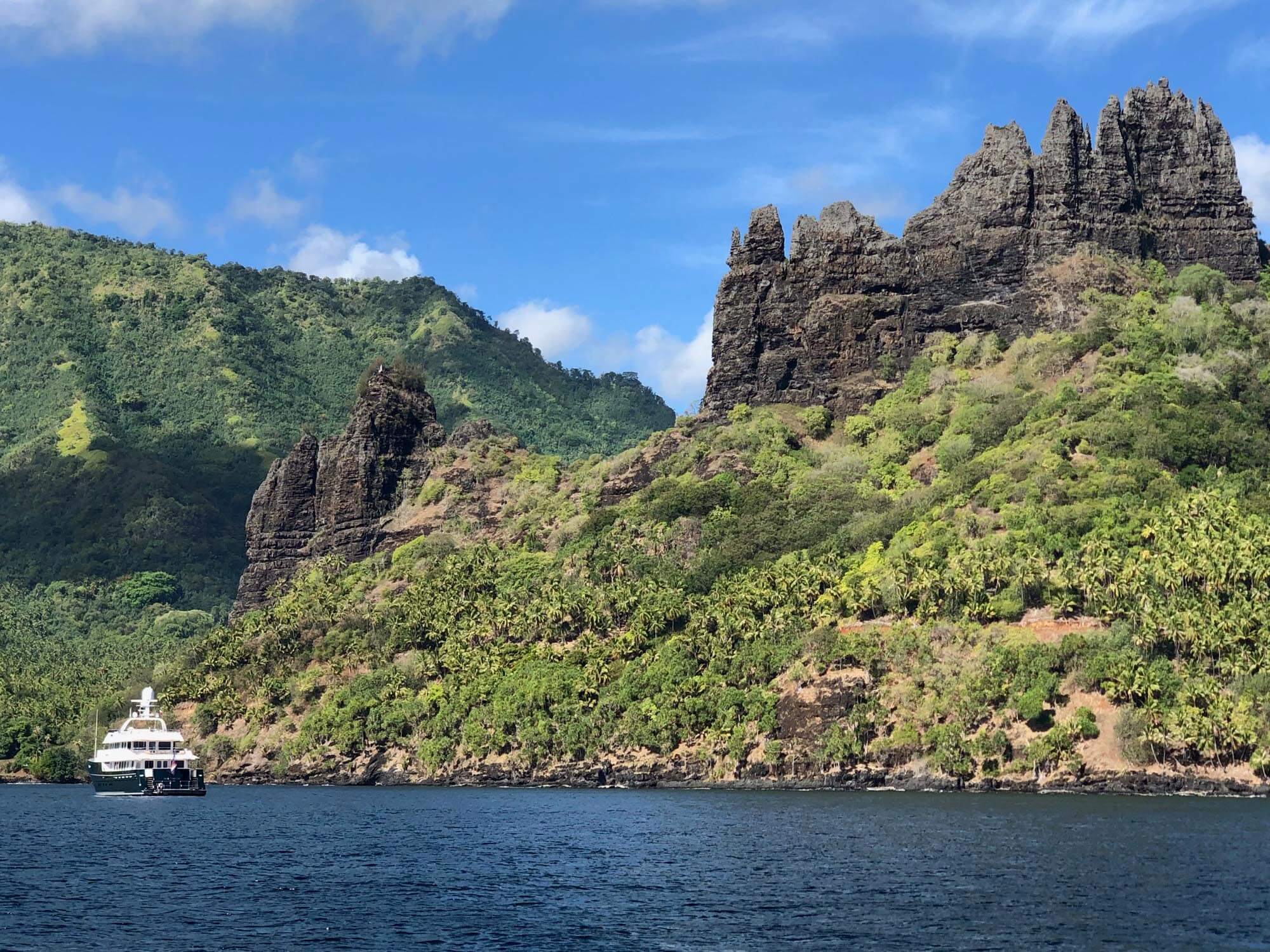 In keeping with her long-range explorer yacht design, Dorothea III is equipped with a water-making system that can produce 8,000 gallons of water a day and an MSD system that can process 600 gallons a day. There is storage for up to three years' worth of parts and crucial supplies such as oil for the engines and generators. "It's all on board," Capt. Crupi said, adding that the crew was always able to do any service that was necessary themselves while voyaging – even while putting over 2,000 hours on the main engine each year. "We've never called a contractor to service the yacht outside of the yard," he said.
Dorothea III had three yard periods between voyages, during which she underwent extensive service and maintenance in order to keep her in tip-top running condition. "We did top ends on the main engine every 6,000 to 8,000 hours," he said.
Nearly half of the vessel is dedicated to crew operations, which is nearly unheard of in the luxury superyacht sphere. Space planning in the engine room is exemplary.
"You can crawl under the entire main engine and transmission. You can get to everything," Capt. Crupi said. "The wiring is perfect."
The crew quarters, which accommodate up to nine people, are exceptionally spacious. Most of the time, Dorothea III ran with seven crew, and nearly everyone had their own room. "When you are spending all your time in these remote places, at anchor for weeks at a time, it's important," he said. 
Triumphs and challenges
Providing the Greens with a luxury platform for family adventures in the far corners of the Earth was the Cheoy Lee expedition yacht's primary mission over the past decade, but big-game sportfishing was close second. In many cases, these two passions combined to create unforgettable moments, such as the time the Greens' grandson caught his first blue marlin off Tonga in the South Pacific.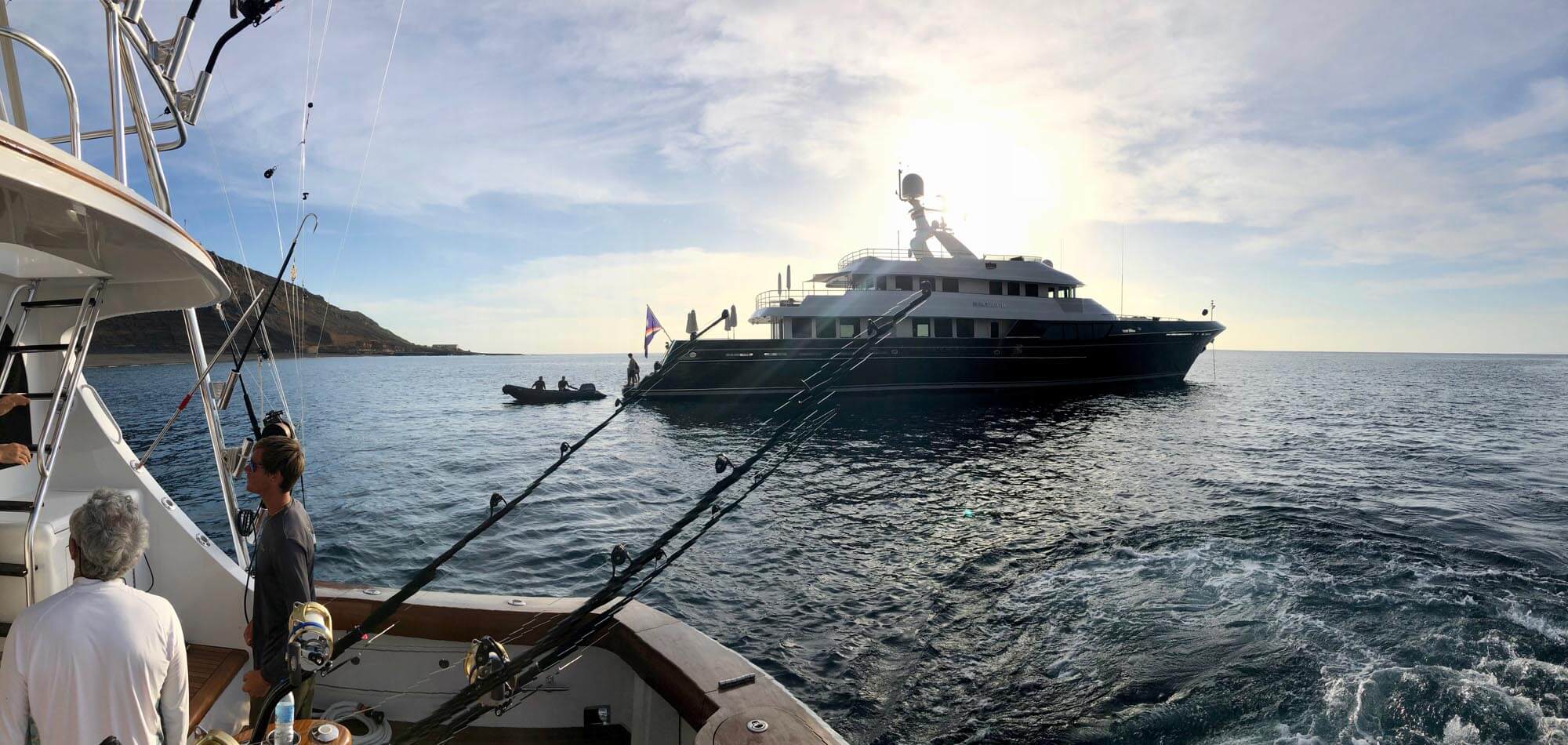 Over the years, Dorothea III has had a series of sportfishing "tenders" named Post One, including a 45-footer that Capt. Crupi towed behind the mother ship, and a 63-foot sportfishing yacht that ran in tandem with her. During the Cheoy Lee explorer yacht's most recent voyage, for which she received the Voyager's Award, the 63-footer made the 1,800-nautical mile transatlantic crossing from Bermuda to the Azores on her own bottom, re-fueling from Dorothea III en route.
Over the course of 200,000 nautical miles, Dorothea III has encountered her share of extreme weather. "We've sat in 100 knots of wind multiple times…. We've been through 20-foot seas; we've had them crash on the sundeck. That's a lot of water! But the boat never really pounded. It's a pretty solid boat," Capt. Crupi said.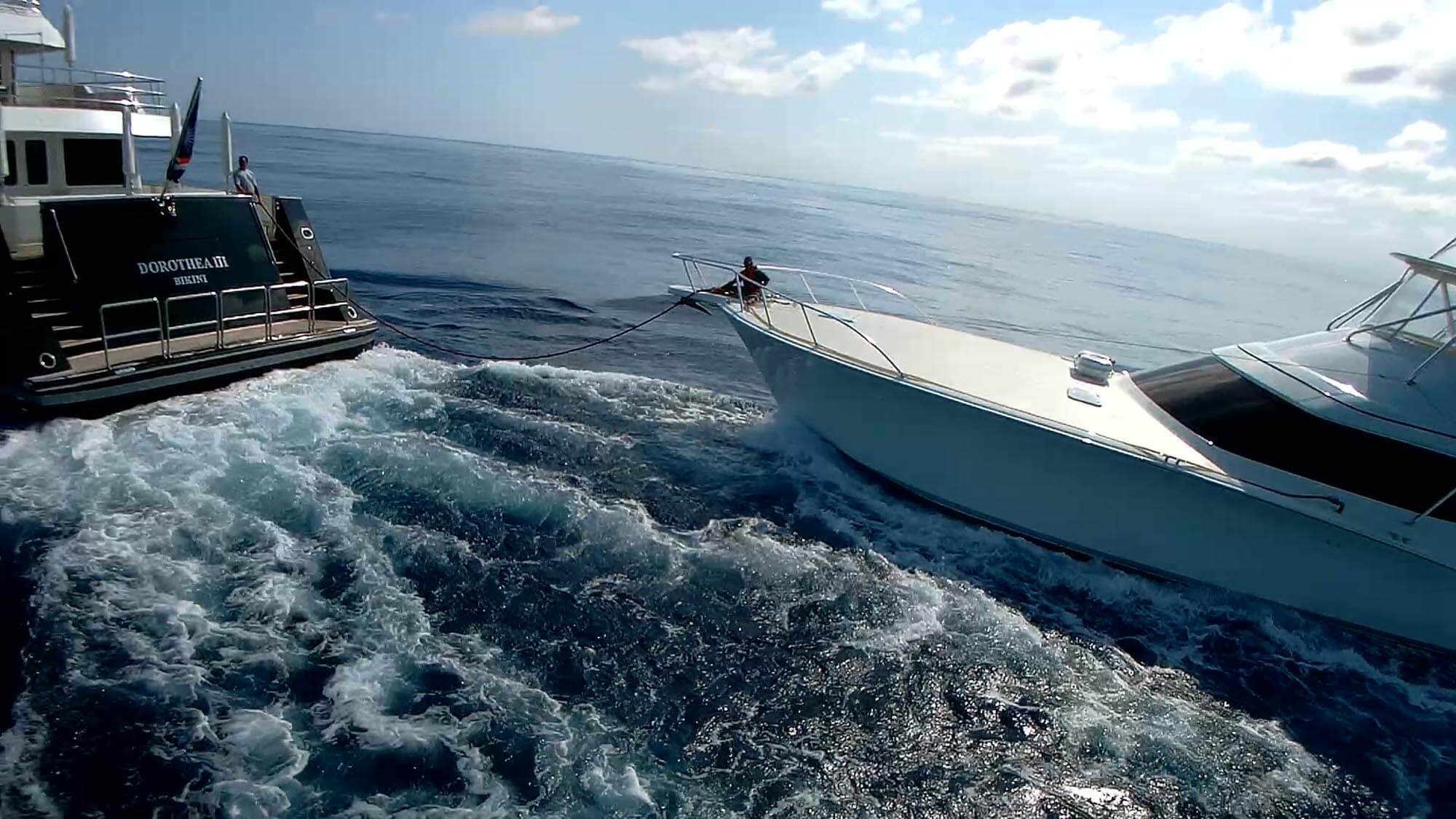 Dorothea III is now on the market, as the Green family moves on to other things. Capt. Crupi summed up his thoughts in a letter on the yacht's website: "As captain I faced a multitude of challenges from planning to execution on each of these voyages, but knowing that I had a solid, reliable and capable platform in the Dorothea III was always a comforting place to start. I initially sought out a vessel that I felt could perform and withstand the rigors of extensive worldwide travel and Dorothea III continuously exceeded my expectations over and over again when put to the test."
He added, "If I was to build another one, if I had my choice, I'd build the exact same thing."