What Is an Expedition or Explorer Yacht? 
Most yachts are designed to cruise inland and coastal waterways but in reality, very few are built to voyage the world's oceans. It is only these bluewater vessels, known as explorer or expedition yachts, that can take you on adventures to the most remote, spectacular, and pristine corners of the globe.
A few decades back, these long-range motoryachts were called "trawlers" after the commercial fishing trawlers they often resembled, topped by enclosed pilothouses that frequently featured reverse-slanted, "North Sea" windshields. But over the years, the trawler yacht category became crowded with "wannabe" boats that only looked like their rugged offshore counterparts. In reality, many of them were unable to venture very far from the coast.
Enter the true explorer yacht – a vessel that is purpose-built to be seaworthy and self-sufficient enough to serve as a luxury platform for oceangoing expeditions that are virtually without limits.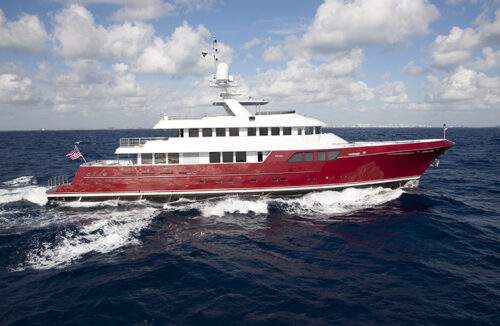 "The whole idea of an expedition yacht is how the owner intends to use his or her boat. We are working on the first Cheoy Lee 107 Explorer project now. It's a boat capable of going practically anywhere in the world," said Jon Overing of Overing Yacht Design, the naval architect who collaborated with Cheoy Lee Yachts on its new Explorer Series.
"The whole idea of an expedition yacht is how the owner intends to use his or her boat. We are working on the first Cheoy Lee 107 Explorer project now. It's a boat capable of going practically anywhere in the world"
What gives an expedition yacht "go-anywhere" capability?
It's not just one single aspect of the vessel's design, construction, or outfitting. With the world's best explorer yachts, it's the entire package.
"I think any viable explorer yacht has be based on a full-displacement hull. That type of hull makes a better sea boat than a semi-displacement or planing hull … Full displacement hulls also inherently have more volume, and you need more volume to fit the mission profile for an expedition yacht."
Rugged and reliable:
What to look for in explorer yacht design and construction
Full-displacement hull

While many of today's yacht owners send their vessels to distant ports aboard a commercial ship, the hallmark of a true expedition yacht is to be able to make any voyage on its own hull. "I think any viable explorer yacht has be based on a full-displacement hull. That type of hull makes a better sea boat than a semi-displacement or planing hull," Overing said, adding, "Full displacement hulls also inherently have more volume, and you need more volume to fit the mission profile for an expedition yacht."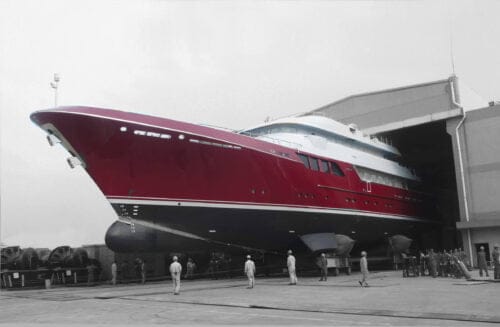 Sufficient speed

Historically, full-displacement vessels tended to be slow through the water, making up in seaworthiness what they lacked in speed. "The image in everyone's mind was a 10-knot boat, but it doesn't have to be that way," Overing said. Today's full-displacement hull designs, notably our fast-displacement hullform that Overing has developed for the Cheoy Lee Explorer Series.  Overing's fast-displacement hull combines superior seakeeping, optimum range and efficiency at 9 to 10 knots with the capability of running over 14 knots if needed to avoid a storm or make up time in a tight itinerary. With a speed/length ratio of 1.6 – 1.7, the Overing fast-displacement hulls are capable of well exceeding theoretical hull speed allowing higher speeds if the owner chooses the higher horsepower options.
Bulbous bow

A fuel-efficient hull is essential when it comes to ensuring an expedition yacht has the range to cross oceans. Cheoy Lee Yachts Explorer Series yachts feature a bulbous bow, which reduces the hull's resistance to the water. "When Overing Yacht Design developed their first 50-meter fast-displacement hull in the late 1990s, Overing brought in a bulb expert from MIT to refine their bulb design and tank-tested their fast-displacement hull with and without a bulbous bow. The final bulb design resulted in a resistance drop between 7 and 15 percent depending on speed and load," Overing said. "If you lower the hull's resistance, it increases its efficiency. On average, our bulbous bow reduces fuel consumption by 10 percent on our fast-displacement hull. Over the course of a voyage, it adds up."
Steel hull

Steel is the metal of choice for an oceangoing, full-displacement explorer yacht hull because of its weight and strength. While there are plenty of bluewater yachts made of aluminum or fiberglass, those materials are lighter than steel and might require the yacht to carry additional ballast. Steel expedition yachts also withstand impacts from debris in the water better. If the hull should be damaged, however, steel is easier to repair when the yacht is in a remote port that does not have modern yacht service and repair facilities. Cheoy Lee Explorer Series yachts are built with steel hulls and lightweight aluminum superstructures, utilizing both metals to their best advantage.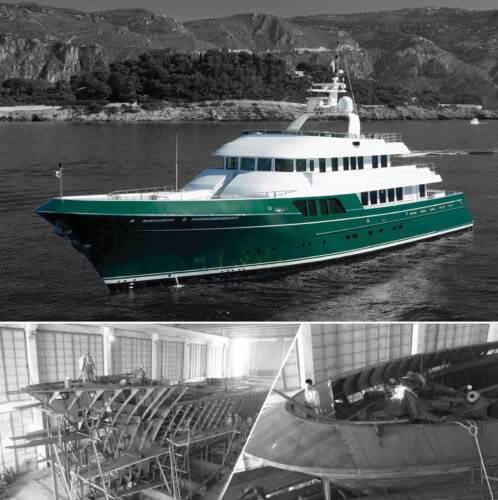 Seaworthiness

When you are voyaging to destinations that are "off the beaten path", you can't always find a convenient port to pull into when bad weather threatens. Expedition yachts have to be tough enough to stand up to rough, wind-driven offshore conditions. Cheoy Lee Explorer Yachts have full displacement hulls with rounded bilges that provide a stable, quiet ride even when the going gets tough. Today's stabilization technology, which includes fixed stabilizers, movable fins, and gyros, provides solutions both while the yacht is at anchor and underway, adding yet another level of comfort.
Practical profile

Today's long-range expedition yachts don't have to look like commercial fishing trawlers. Modern explorer yachts over 100 feet in LOA are luxury superyachts and their profiles should reflect that aesthetic. "The exterior styling of an explorer yacht doesn't have to look like a tugboat. It can be modern, classic, traditional – however you want," said Overing.
Take the Cheoy Lee Explorer Series, for example. These multi-deck yachts sport graceful superstructures that are skillfully wrought in aluminum by Cheoy Lee Shipyard artisans. They feature spacious on-deck gathering areas, including flybridge, bridge and lower aft deck lounges, designed for sunbathing, dining and entertaining. They even boast aft beach clubs that are ideal for launching myriad watersports adventures.
"The exterior styling of an explorer yacht doesn't have to look like a tugboat. It can be modern, classic, traditional – however you want,"
At the same time, however, expedition yacht design should address the long, rough passages the yacht will frequently face. Typically, these yachts have high bulwarks, full pilothouses and Portuguese bridges designed to protect the yacht from seas breaking on deck. The new Cheoy Lee Explorer 132, which features an aft-pilothouse design is an excellent example of form following function while still displaying an eye-catching profile.
High-tech construction.

Designing a seaworthy explorer yacht is only the start of the process. The shipyard also must possess the engineering skills, tools and technology to build a rugged vessel that can go the distance. In constructing its world-class explorer yachts, Cheoy Lee Shipyard draws on 150 years of experience building over 5,200 vessels to date, including thousands of commercial ships that have seen duty all over the world. The shipyard's expert labor force combines traditional artisanship with state-of-the-art construction techniques, aided by a full suite of high-tech construction machinery, including 4-,5-, and 6-axis CNC machines, water jet plasma cutters, CNC pipe benders, CNC marble working machines, cross-cut granite saws, and much more.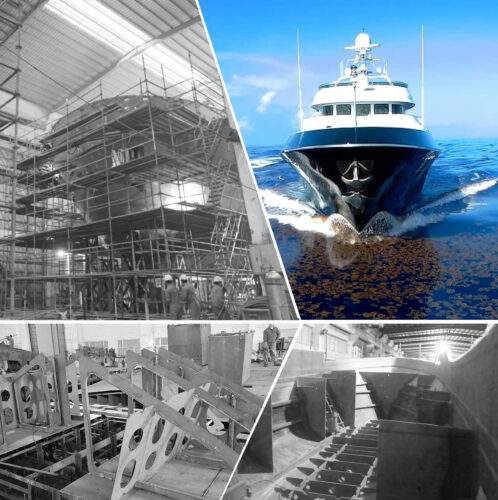 Classification.

While private yachts displacing under 500 gross tons do not require certification by any of the international maritime classification societies, yachts operating as charter vessels must be classed. When building an expedition yacht, it's important for an owner to keep the yacht's resale value in mind, along with the opportunity to offer it for charter when you are not using the vessel. A yacht's charter clients, carefully vetted and booked by a professional agent, can help to defray the costs of voyaging to long-range destinations such as the Arctic, Alaska or Antarctica. There are other benefits to building an explorer yacht to classification, such as American Bureau of Shipping (ABS), Lloyd's, Bureau Veritas (BV) or RINA, as well.
"It's another system of checks and balances you are bringing into the project. I view it as an insurance policy for the owner," Overing said, adding, "If you are building a good boat to begin with, there's not a lot of cost difference in building it to class." Cheoy Lee Explorer Yachts are available built to Lloyd's ✠ 100A1 SSC Yacht Mono G6 classification.
Fuel tankage.

A transatlantic crossing from New York City to Cornwall, U.K., is 2,880 nautical miles. Any long-range expedition yacht worth its salt should have the tankage to cross an ocean without needing to refuel. Cheoy Lee Shipyard is known for engineering and building fuel tanks for its yachts that combine outstanding capacity with exceptional structural integrity. Even though it is a small expedition yacht, the Cheoy Lee 107 Explorer has a range in excess of 4,000 nautical miles at 10 knots, with a fuel reserve.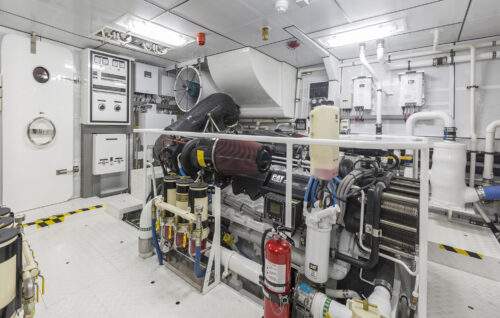 Commercial-grade equipment.

When an expedition yacht is voyaging to regions where yacht service yards and spare parts are few and far between, it is essential for all its ship's systems and equipment to be ultra-durable and reliable. Cheoy Lee Yachts outfits its Explorer Series vessels with proven commercial-grade machinery that is designed for continuous operation. Redundant systems and equipment are also crucial for an expedition yacht. "All vital systems must have full redundancy," Overing said.
Maximized storage.

For many expedition yacht owners, leaving civilization behind and exploring remote regions is the whole point of having the boat. However, if you are voyaging to a destination with little or no maritime infrastructure, such as Antarctica, you will need to take all your provisions, supplies and spare parts with you. Dry storage, refrigerated storage, and freezer storage beyond what's available in the galley are all essential features of a well-designed expedition yacht. The Cheoy Lee Explorer 107 and 132, at the upper and lower end of the range, have full tank decks that hold capacious stowage and also allow the crew to transit the whole yacht while staying out of the weather and unseen by the guests.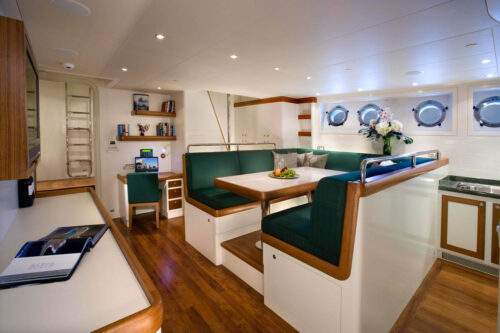 Well-laid-out crew areas.

The captain and crew of a long-range explorer yacht with an itinerary for adventure frequently pull continuous duty like the machinery and equipment on board. They spend weeks under way and at anchor rather than in port, unlike their counterparts who work on coastal cruising yachts in the Med. In order to keep an expedition yacht's crew efficient, committed and refreshed, their work and leisure spaces should be given equal consideration to the owner and guest areas on board. Keeping this in mind, the Cheoy Lee Explorer Series yachts incorporate spacious crew quarters. In fact, the Cheoy Lee Explorer 107 has a main-deck captain's cabin that rivals the VIP stateroom in many yachts of the same size.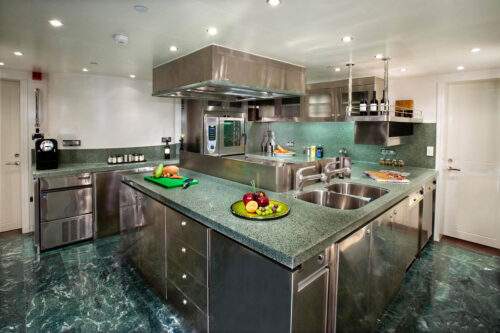 Bespoke owner/guest accommodations.

If you are planning to use your yacht as a platform for voyaging to remote regions where there are no marinas or luxury resort hotels, it's important to ensure you and your guests will be comfortable onboard. While in the past, some trawler yachts had staterooms that looked more like the scientists' bunks on an oceanographic research vessel, today's explorer yachts typically feature luxury owner and guest suites suitable for a superyacht. Interior design experts can help owners to customize their yacht's inner sanctums to suit their own personal tastes and needs. Cheoy Lee Yachts collaborates with world-renowned yacht interior designers to select the finest woodwork, stone, furnishings, soft goods and other décor items for each interior in its Explorer Yacht Series. The shipyard also will work with an owner's personal interior designer, if preferred.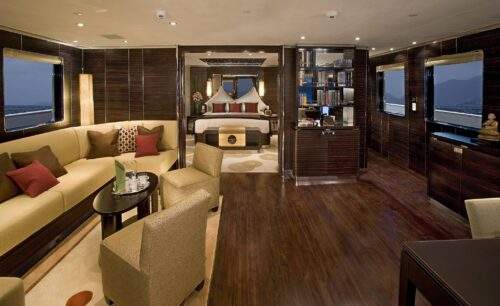 Satellite communications.

Today, it's possible to leave civilization behind, yet still remain in touch with home and work, stream videos, and enjoy other entertainment options via VSAT satellite internet service at sea. There are multiple providers in the marketplace offering a wide range of wifi solutions and service plans. Your shipyard can advise you on which cutting-edge VSAT antennas and other communications equipment you need to have on board your expedition yacht to utilize these services.
Tenders & toys.

Small boats and water toys can greatly enhance the adventures you pursue on your large expedition yacht. Tenders are not merely a means of transportation from yacht to shore. They also can take you to quiet coves and deserted islands surrounded by serene waters that are too shallow for the mother yacht to navigate. Jet Skis, kayaks, SEABOBs and the like can provide hours of fun in the water for owners and guests.
Have it your way:
Building a new explorer yacht
There are pre-owned expedition yachts on the market today that come in all makes, models, sizes, vintages, and levels of bluewater capability. An owner who elects to purchase a brokerage boat is best advised to develop a mission profile for his or her desired vessel in advance and then choose the boat that ticks off the most boxes on that list. How far do you want to go? How many guests do you want to bring with you? It's important to determine all your desires and needs before you start shopping for a yacht.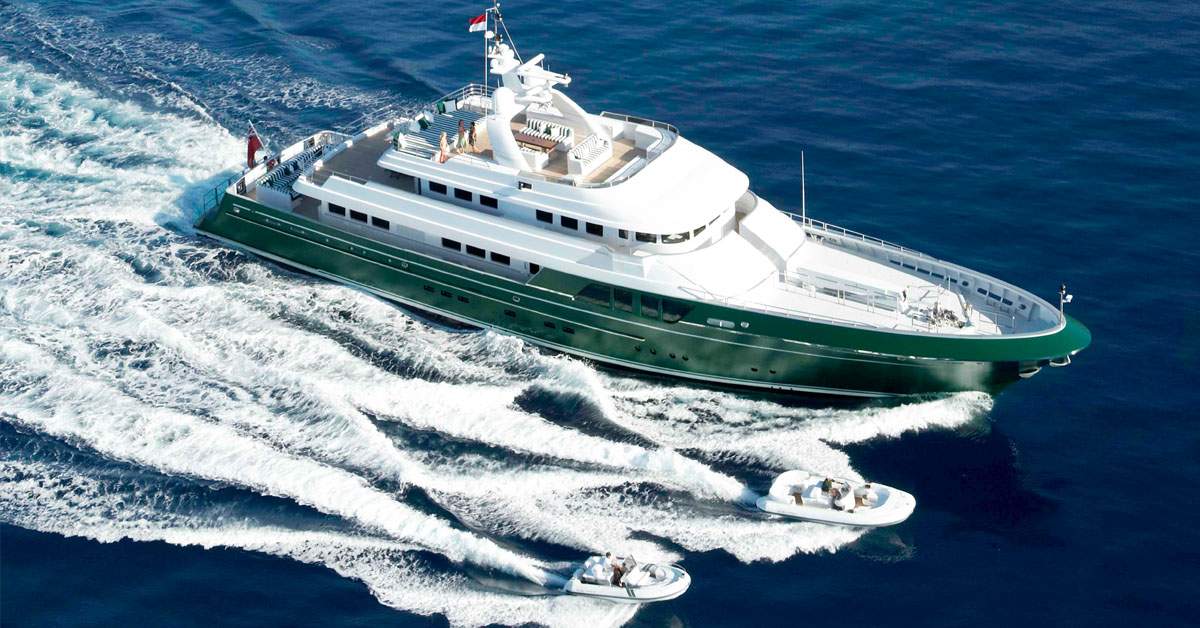 "It's always a compromise with a pre-owned explorer yacht. It's someone else's design for another owner," said Panu Virtanen, vice president – sales, Cheoy Lee Shipyard North America. He added, "Who built it and how was it built? Does it have maintenance issues? It's important to find out."
Use a surveyor with a proven track record to determine whether there are any hidden problems with the pre-owned yacht. And if you decide to go ahead with the purchase, many brokers recommend keeping a budget in reserve to refit the vessel. You may need to update the electronics and stabilizers, and you probably will want to change at least some of the furnishings and the soft goods. The yacht also may need its classification certificate renewed. "That can be an expensive process," Virtanen cautioned.
Building a new explorer yacht with a reputable shipyard, on the other hand, will ensure you get the vessel that fulfills your individual dreams for global exploration. "You can get exactly what you want," he said.
The shipyard can help you to put together a team dedicated to designing the best expedition boat for your mission profile, including members of the shipyard's management, design and engineering teams, the yacht's naval architect and interior designer, along with your captain, yacht broker, and yacht management company, if you so desire. This "dream team" will be dedicated to creating an explorer yacht that is unique to you.
"There is no 'perfect boat', but when you build one, you can come extremely close to getting the explorer yacht that is perfect for you"
Do you want a main-deck master suite with panoramic views so you can see spectacular scenery you when you wake up each morning? Do you want to be able to cook breakfast for your family yourself in an eat-in galley on a sunny Sunday morning? Would you like to be able to soak in a Jacuzzi on the flybridge, watch a film on the foredeck, or fish from the aft deck? Or do you fancy a beach club where you can lounge virtually at eye level with the sea, hop onto a Jet Ski whenever the mood strikes you, and enjoy a cocktail while your yacht's underwater lights attract an "aquarium" full of exotic fish? "There is no 'perfect boat', but when you build one, you can come extremely close to getting the explorer yacht that is perfect for you," Virtanen said.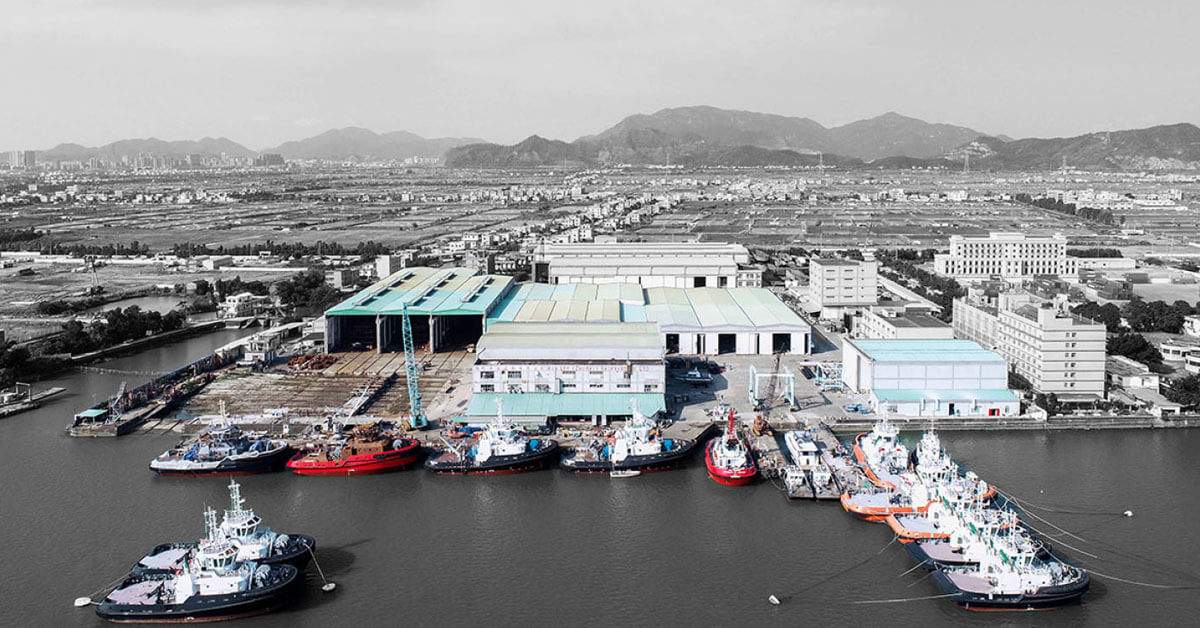 Who builds the best explorer yachts?
If you plan to build a new explorer yacht, it's important to consider working with a shipyard that has a commercial shipbuilding pedigree in addition to a proven reputation for launching high-quality luxury yachts. Longevity, integrity, and family are key factors behind a successful shipyard. Few shipyards around the globe can boast more than 150 years of experience under continuous operation by the same family, like Cheoy Lee.
"Cheoy Lee Shipyard has 150 years of experience in building commercial vessels that operate 24/7 in demanding conditions. That is the philosophy of the commercial side of the company, and it carries over to all the explorer yachts that we build as well."
It's also important to research other expedition yachts the shipyard has launched in the past. Have they won awards and voyaged 200,000 nautical miles through most of the world's oceans in a decade, like the 146'7" Cheoy Lee expedition yacht Dorothea III?
"If you plan to voyage far, you need to be able to rely on your yacht in any conditions anywhere in the world. That experience is what you look for in a shipyard when you are building a true expedition yacht."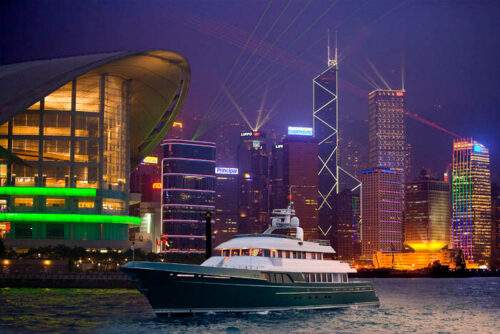 "Cheoy Lee Shipyard has 150 years of experience in building commercial vessels that operate 24/7 in demanding conditions. That is the philosophy of the commercial side of the company, and it carries over to all the explorer yachts that we build as well," Virtanen said. "If you plan to voyage far, you need to be able to rely on your yacht in any conditions anywhere in the world. That experience is what you look for in a shipyard when you are building a true expedition yacht."