A Q&A with Naval Architect Jon Overing, Overing Yacht Designs
Cheoy Lee Explorer Series Designer Jon Overing, founder of Overing Yacht Designs, began his formal training in naval architecture at the age of 14. Due to his fierce passion for every aspect of maritime vessel design, Jon convinced Dutch Naval Architect Frank van Bentem, who owned a design firm in Jon's hometown of Ocean Springs, Mississippi, to take him on as an apprentice while still in junior high school, training Jon in much the same manner he had learned the trade himself in The Netherlands. Through a special program at the University of Southern Mississippi, Jon also took two years of college-level naval architecture courses during his junior and senior years of high school, spending mornings at school and afternoons with van Bentem – an opportunity he describes as "once in a lifetime".
At age 18, Jon joined Ingalls Shipbuilding in Pascagoula, Miss., earning a high security clearance so he could work on nuclear submarines and DD998e Class destroyers. After building a wealth of experience in military and commercial vessel design, he opened Overing Yacht Designs in 1989, adding custom yachts to his portfolio.
Over the past three decades, Overing Yacht Designs (OYD) has established a global reputation for designing a wide variety of successful yachts, megayachts and superyachts, including the 174-foot quad-deck Shogun – the largest motoryacht to be built in New Zealand at the time.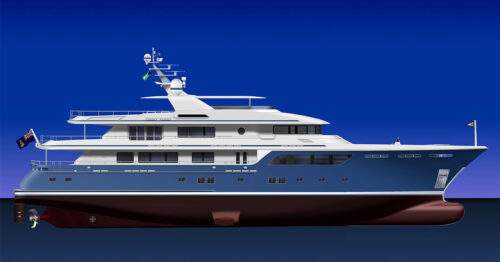 Jon and Cheoy Shipyards Director B.Y. Lo met through the yachting industry and soon developed a friendship based on mutual respect for each other's professional accomplishments in both the commercial and pleasure vessel sectors. The first time they collaborated on a project, however, was not until 2014, when B.Y. approached Jon about designing a next-generation Cheoy Lee 150 Explorer, an expedition megayacht based on OYD's proven fast-displacement hull.
" Our many discussions and similar mindsets ultimately led us to develop the new Cheoy Lee Yachts Explorer Series," Jon said. Today, that series includes four bluewater expedition yachts designed for long-range voyaging without compromise: the 107 Explorer, 126 Explorer, 130 Explorer and 132 Aft House Explorer.
In this Q&A, we asked Jon Overing to talk about the design process of creating a world-class long-range expedition yacht: the CHEOY LEE EXPLORER.
Q: What is the mission statement for the Cheoy Lee Explorer Series?
A: Start with the commercial mentality: reliability, dependability and superior seakeeping. Create clean, contemporary designs based on OYD's proven hull forms. Add the infrastructure to support extended cruising, world–class quality interiors, high attention to detail, and high-quality fit and finish. Design and build to full  Lloyd's Class, RMI Yacht Code, or the equivalent international standard. These are true world-cruising, bluewater yachts.
Q: What was your vision for the Explorer Series' exterior profiles?
A: We departed from the traditional expedition yacht lines of the past and developed a more contemporary style to appeal to today's market, while preserving the essentials in bluewater hullform and seakeeping, the very foundation of a proper explorer. Some of the yachts also incorporate modern elements like a beach club aft to meet current market demand. For the traditionalist, we do offer our more traditional designs, but we feel our new style is in keeping with the times without sacrificing integrity.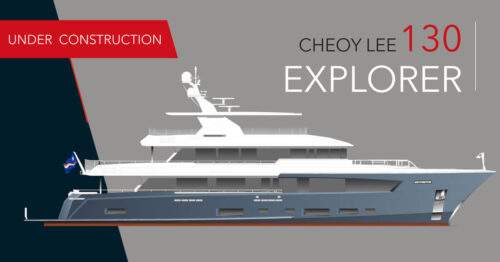 Q: Tell us about the Explorer Series' hull forms and build materials.
A: Cheoy Lee Shipyards has more than 150 years of experience in building oceangoing vessels, and is equally proficient in constructing them out of steel, aluminum or composite. We gave the Explorer Series steel hulls and aluminum superstructures for toughness, strength, durability and ease of repairs – which is especially important for owners voyaging to ports in remote parts of the world. These yachts have full, fast displacement hulls with a rounded bilge and bulbous bow for increased efficiency. When we developed our first fast displacement hullform in the late 1990s, we directed a lot of effort into not just creating a highly refined round bilge hull form, but also in fully optimizing the bulb. We achieved a 7% – 15% reduction in resistance, depending on speed and load.
Q: What is the cruising speed for the Explorer Series yachts?
A: In our experience, most explorer yacht owners look for a 10- to 12-knot cruise and we power our yachts accordingly. Our fast displacement hulls are capable of greater speeds, and should a client request a higher cruise speed, we can accommodate that request by increasing horsepower. The advantage of our hulls through the eyes of the client are the higher efficiencies that result in less fuel burn in the 10- to 12-knot range. In addition, we have designed each yacht in the Explorer Series with a fuel capacity that gives it transoceanic range without having to refuel. For example, the 107 Explorer has a range in excess of 4,000 nautical miles at 10 knots with a fuel reserve.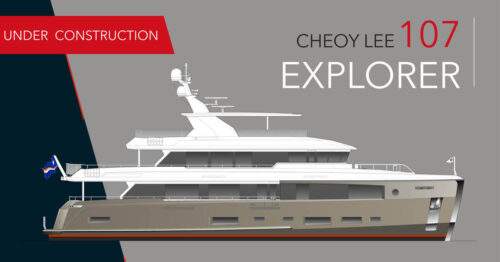 Q: Give us an example of the "commercial mentality" behind your designs.
A: The Explorer Series yachts are designed for continuous duty, like commercial vessels, rather than intermittent operation like so many superyachts that sit in port for much of the year. Our yachts are equipped with commercial-level machinery and systems. Incorporating abundant storage space for provisions and spare parts into each Explorer is another primary focus for us – they must be capable of self-sustainability whether the owner is island-hopping in The Bahamas or voyaging to Antarctica. On the larger yachts, we even have incorporated frozen waste storage so the owner can hold it until the yacht reaches a port where it can be disposed of properly. The new 132 Explorer also has a tank deck that runs the full length of the vessel with massive storage compartments. The tank deck also allows the crew to transit the yacht from bow to stern without having to disturb the guests.
Q: What new technologies are you and Cheoy Lee taking advantage of in building this series?
A: Looking back over the past 20 to 30 years, we find most advancements have been in electronics, machinery and equipment, and we are taking advantage of all of these. Engines are becoming more and more efficient and cleaner-burning, stabilizers have become more and more refined, we are using lighter materials in areas that are crucial, and so on. All of these improvements result in a better, more comfortable vessel as a whole – one that can go farther using less fuel with a smaller carbon footprint.
Q: What level of customization can owners expect with the Explorer Series yachts?
A: Both Cheoy Lee Shipyards and OYD have a long tradition of working closely with owners to ensure their yachts are unique reflections of their individual needs and desires. Owners who build expedition yachts typically are experienced voyagers and we value their input. If an owner asks to change the interior accommodations layout for one of the Explorer Series yachts, that's fine, as long as it doesn't compromise safety and seakeeping. As for interior design, that is entirely up to the owner's personal taste. The first two owners are working with Sylvia Bolton Designs on personalizing their interiors, but owners also are welcome to bring in their own interior design firms or work with us directly.
Q: What has your experience been so far in collaborating with Cheoy Lee Yachts?
A: Cheoy Lee has always been a complete pleasure to work with from the senior management through to Engineering. A family-owned company, Cheoy Lee is also a family-run company and that is key to its immense success in my view. The Lo family is the pinnacle of honor and integrity. When they say they will do something, it is as good as done. Cheoy Lee has a heritage many builders would envy, having built over 5,000 vessels. The first two yachts in the Explorer Series that are under construction are Hulls 5,200 and 5,218! Over a span of 150-plus years, Cheoy Lee has perfected the art of shipbuilding, with the lion's share in the commercial sector. Cheoy Lee Yachts is the perfect builder to offer a new line of Explorers and our similar backgrounds make us the perfect team.